Child's Play is expanding
With the holiday season upon us, we wanted to share some exciting news from Child's Play. Due to the incredible amount of support from gamers around the world, we've been working on a new initiative to benefit children and their families in domestic violence facilities. Those of you who happened to be at the PAX East 2012 Q&A with Mike and Jerry may remember the original announcement:
Since then, I've spoken with dozens of domestic violence shelter advocates across the country to understand how they operate and how we can best benefit them. With an entirely new initiative, we wanted to take our time and ensure we were making the most impact possible with your donations. Unlike the network of hospitals we serve, domestic violence shelters operate on a much smaller scale and can have specific needs and challenges: Anonymous locations, apartment-style housing, multilingual families, and more.
Within our pilot program, we have domestic violence facilities that provide emergency housing, long term housing, counseling, legal advocacy, and a variety of youth and family care programs, but there was one unifying factor to each and every one: They're in need of ways to support, entertain, distract and interact with traumatised youth. One of our pilot applications summed it up perfectly:
"The very nature of family violence eradicates trust, self-respect, and physical and emotional wellness in all victims, but none more so than with the children. These "hidden victims" are often the most vulnerable, overlooked and the least likely to receive appropriate services during a time of intense trauma.
We believe that these "hidden victims" can be reached through creativity and play; through the gaming opportunities and learning experience, they will build their self-confidence and self-esteem. Our ability to offer social and emotional skill development- through constructive play and gaming activities - will help the children impacted by violence develop self-understanding, creative thinking and empathy skills, designed to support their healing, growth and future success."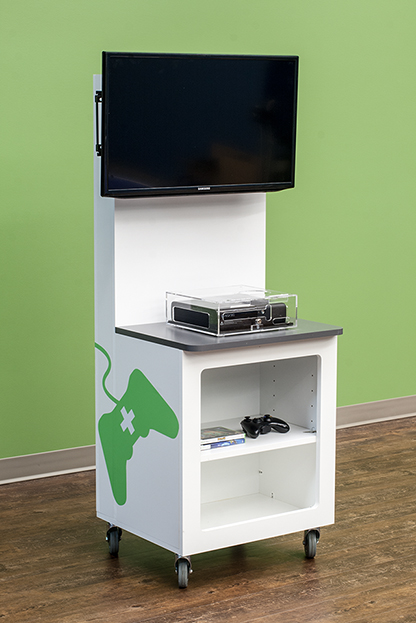 I'm proud to announce we have selected ten facilities to participate in the pilot program for our domestic violence assistance initiative. Over the past year, we've been working to build a custom designed game kiosk, complete with console, TV, and appropriate games.

As we get feedback and fine-tune the manufacturing and distribution process, we will expand the network to include facilities nationwide. For the past ten years, we've been so grateful for the amazing support you've given our hospital network, and we're honored and excited to expand that support to children in domestic violence shelters. Gamers give back, and it truly makes a difference. Thank you!